Interface monthly update – #9
We have been working on one big feature, slightly underestimated it's complexity, so it will be delayed a bit as we are working around to make it really worth the wait. We have also spent an entire month going back and forth with Apple reviewers to get Interface into the store, have tried to convince them that it is ok to provide users with at least Etherscan links for NFT collections as it brings transparency, but all arguments fell on deaf ears for now 🤷🏻‍♀️
Highlights
We have noticed that over 85 Interface users are also FWB members: now all Friends with Benefits are allowlisted, and can see their fellow members during onboarding as well as in the search tab along with Farcaster & Lens friends (more details will follow soon);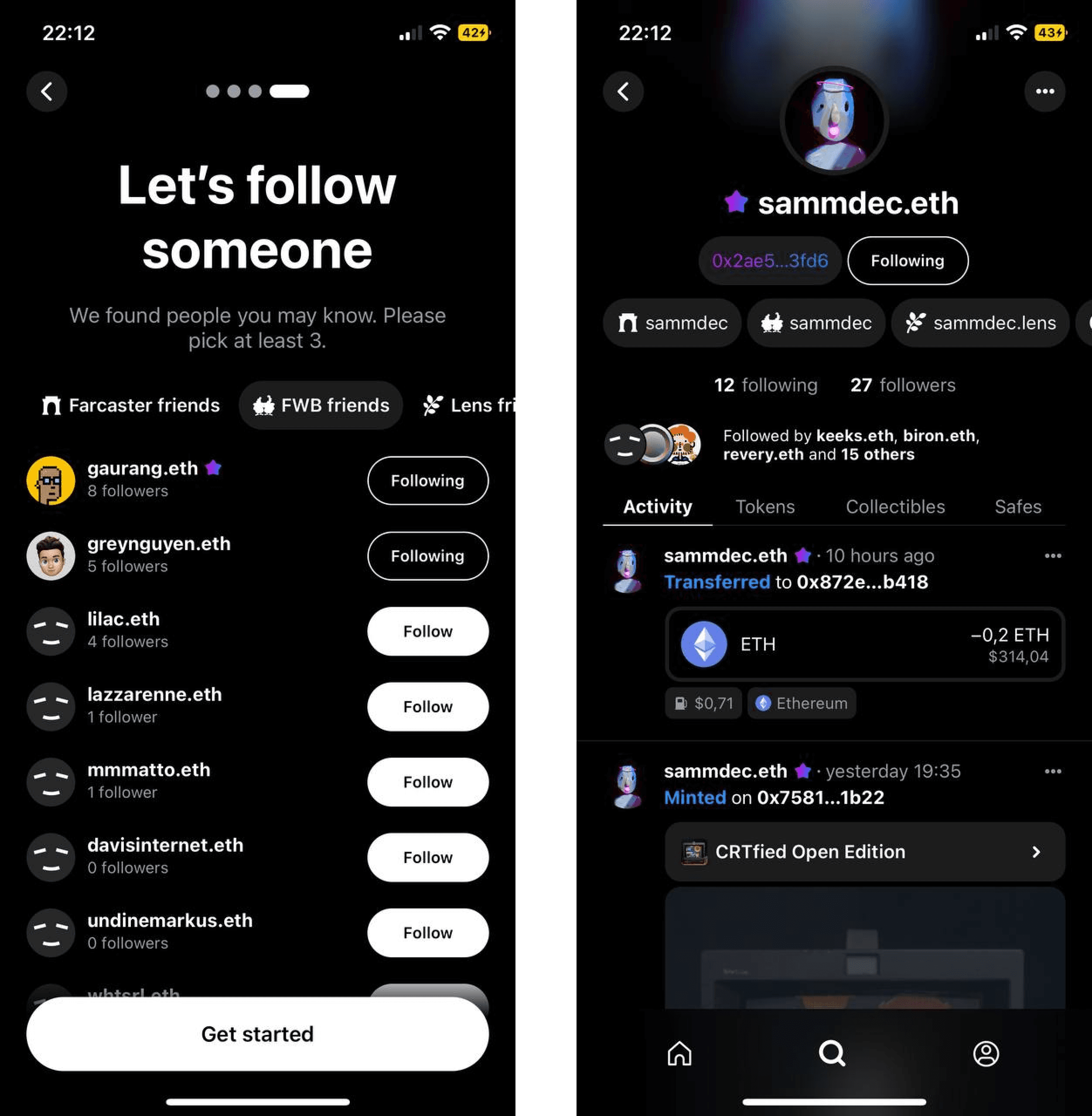 We have run a few analytics on our members, found out pretty interesting stats: 72% of verified members own an ENS domain that is resolved to their addresses, of which 45% have set avatars. Will be sharing more insights in the future 📊;

Have been rewriting some code to avoid legacy dept to build up, along with improving performances on a few core API endpoints (i.e feed should be loading a bit faster).
Features
Share your profile web page, now if you click on the address you will have multiple options available in the context menu, copy, share and view on Etherscan. Also in your profile view you have a QR button to connect with people IRL;

You can now refresh collections metadata;

Added reporting for addresses, transactions and collections;

As an anti-feature, we had to remove all links to external marketplaces within NFT collections in accordance with Apple requirements. We hope it is a temporary measure and we'll find a way to bring them back soon.
Traction
Interface users 1211 → 1345 +11% (on average during our private beta we have been growing 32% MoM and it's like 100% organically, which according to Bryan Kim from a16z puts us into ok/goodish segment)

MAU 936 → 966 +3.2%

Minted Particles 135 → 138 +2.2% ✨

Total connections 17 957 → 21 107 +17.5%

Twitter followers 4382 → 4435 +1.2%

Farcaster followers 330 → 358 +8.5%

Mirror subscribers 503 → 525 +4.4%
Asks
We are now looking for an Android Developer to join our team and bring the Android app back on track (it currently lacks all the latest features). If you are interested or know someone who might be, please send an email to connect@interface.social or DM us on Twitter. Here is our updated job board.
---
To get the app, just go to join.interface.social

There are 1345 free editions available for claim, one per each user on the platform.
Love 💞