TLDR: We have raised $1.4M round led by Polymorphic Capital and Mask Network to build a smart companion for the hunters and gatherers of the onchain era.
Ethereum is a vast world, inhabited by all sorts of creatures, a place for an endless exploration, full of challenges and opportunities, where many curious consciousnesses embark on a journey of their own.
Here ideas can sprout beyond imagination: people rally behind a worthy meme they own, artisans craft their masterpieces, phishers and scammers wreak havoc on both newcomers and OGs, pseudo-pharaohs look to build a pyramid of their own, rekt projects negotiate with grey hackers in real-time, LPs are quick to provide or withdraw their liquidity – which is the bloodline for ideas and value to flow, marketplaces are filled with traders ready to exchange their goods and collectibles. One may leave a legacy that will last forever (literally, forever), there are careful craftsmen who optimise their contracts for gas and composability, plenty of portals into the subnets with rulers of their own; one may start a community with just a jpeg, meet incredible humble strangers that will guide and show the ways of the chain. All of this stands on the giants of the open source, public goods, foundations, indexers, client developers, validators, stakers and most importantly passionate humans that provide the security and calm of mind for all the infinite and finite games that can be played.
What we are trying to say is that Ethereum is a pretty incredible place where possibilities are endless, but it might be overwhelming and easy get lost in this vastness of information. That is why we are building Interface – a companion for you to explore Ethereum.
With Interface You Can:
Connect with friends you've met at various events

Discover and enjoy beautiful media created by the onchain artists

Gather knowledge and collect memories

Participate, coordinate and govern your communities

Build audience to grow your brand and reputation

Hunt for alpha by following DeFi degens or whales

Find cool new projects to contribute to

Learn, curate and help others navigate the space

Stay updated with everything happening onchain

Explore the beautiful world of Ethereum
Seed Round
In early 2022 we've raised a 50 ETH crowdfund here on Mirror with the participation from various prominent figures, including Patricio Worthalter, Anton Bukov, Andrew Kozik, Kirill Malev and Mask Network that enabled us to begin this journey. We have build something that hundreds of people use everyday, but this is just the beginning.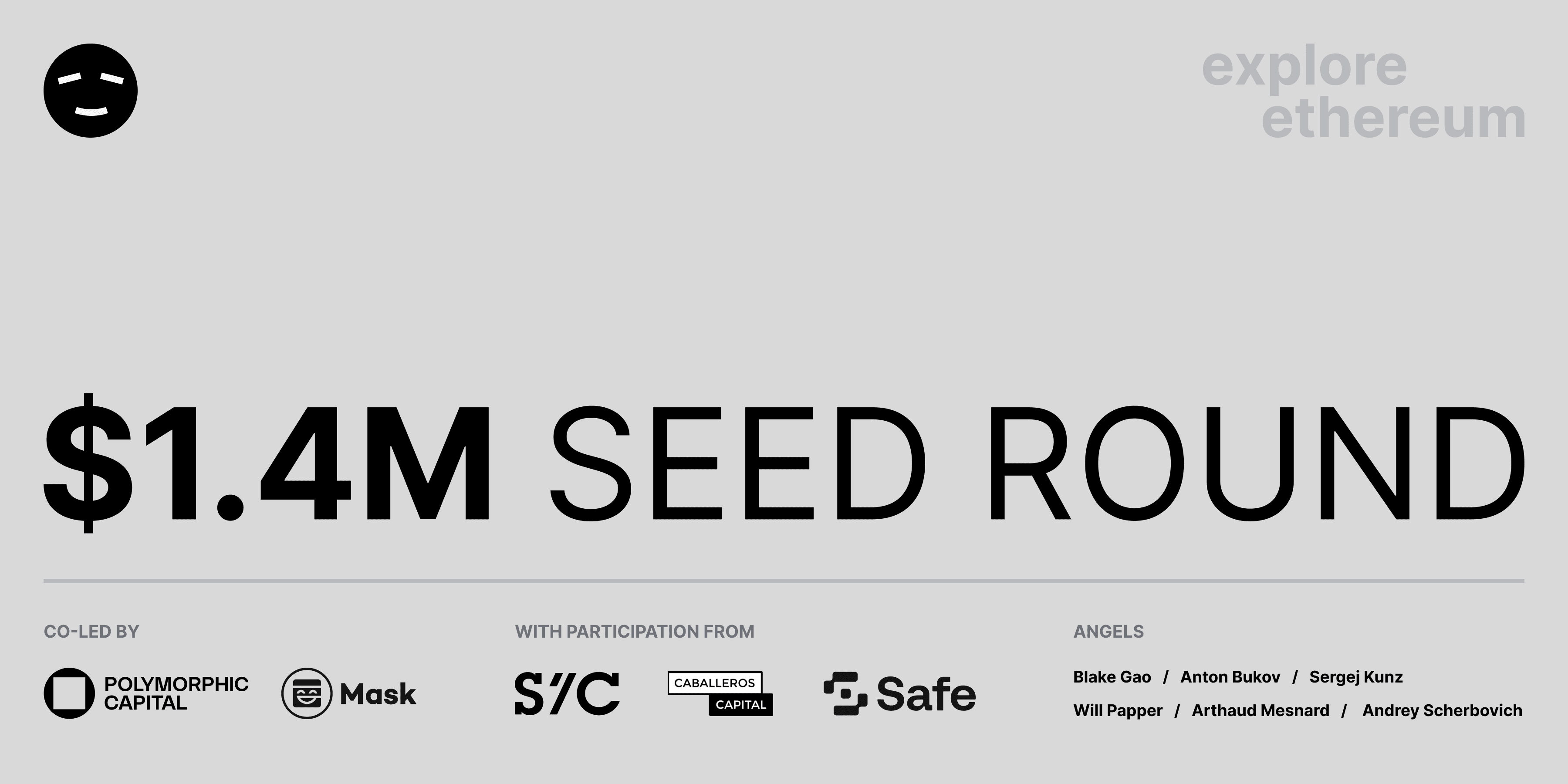 Today we are excited to announce our $1.4M fundraise led by Polymorphic Capital & Mask Network, with participation from Seed Club, Caballeros Capital, Safe Ecosystem Foundation and angels, including Blake Gao, Anton Bukov, Sergej Kunz, Arthaud Mesnard, Andrey Scherbovich and Will Papper.
Eldar Khamitov, Partner at Polymorphic Capital:
Frequently, discussions about the developing social protocols and applications within crypto overlook a significant aspect - Ethereum itself functions as a social network to some extent. Through Ethereum's diverse apps within its ecosystem, users can engage in activities like posting content, connecting with friends, and exchanging messages. However, until recently, this experience remained fragmented, with most available front-ends concentrating on individual applications or technical and financial aspects of the onchain world. Interface seeks to change this by providing a universal front-end specifically tailored for social use cases, transforming Ethereum into a comprehensive social network.
Suji Yan, Founder of Mask:
Interface's approach to search and aggregation of wallet's activity across sources, and turning them into a human friendly and discoverable social feed — hugely aligns with Mask Network's vision of a new and open internet where users are the customers, not the products. Web3 Social is a paradigm shift and we strongly believe that the Interface team is at the forefront of it.
We are thankful to everyone who's been supportive and enjoyed Interface, provided feedback, collected our monthly updates and Particle #1. Thrilled to welcome the new investors to the team!
We are just scratching the surface of how application layer can be composed and conceptualised within the decentralised paradigm, especially excited to continue experimenting with onchain discovery and accessibility. We strongly believe that in order for crypto to succeed and reach its full potential we must make it intuitive to use.
Join Interface
If you want to embark on this journey with us, consider downloading your Ethereum companion at: